Family Fun Day
October 29, 2017. 10 am Mass. Faith, Family, Music, Food, & Games.
All are welcome.
Volunteers are needed.
Next Meeting is August 1, 2017 at 6:30pm.
Knights of Columbus Council 16362 has been awarded with the Father McGivney award.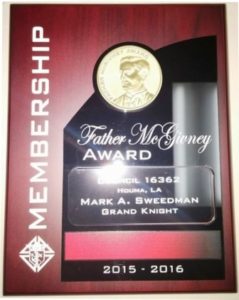 Phase 1 of Church Upgrades Have Begun
VOLUNTEERS ARE NEEDED TO HELP CLEAN THE CEMETERY
All Saints' Day is coming around the corner. The Cemetery needs your help! If you have any time and you are willing to help, we would truly appreciate it. Please contact the Parish Office if you are interested in helping to keep our Cemetery beautiful.
Mission Statement
Holy Rosary Catholic Church, under the patronage of Our Lady, Queen of the Rosary, strives to be a welcoming community, whose heart is the Gospel of Jesus Christ. We carry the mission of Jesus through faith-filled celebration of the Sunday Eucharist, the spiritual nourishment and religious education of all our members and a passionate dedication to the works of peace and justice.
Masses
Vigil Mass Saturday:
4:00 PM
Sunday:
8:00 AM, 11:00 AM & 6:00 PM
Weekdays:
Mon., Wed. & Fri. – 8:00 AM
Tuesday & Thursday – 5:15 PM
Children's Come Listen Program:
Sunday – 11 AM
Youth Mass:
Sunday – 6 PM
Devotions
Perpetual Help Novena – Tuesday & Wednesday after mass
Sacrament of Reconcilication
(Confessions)
Saturday:
3:15 PM
Weekdays:
Before daily mass or by request any day by appointment.